Pre-School Gymnastics and Academics Together!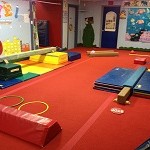 Physical activity is extremely important in the social and cognitive development of all preschool children. EnVision's movement-oriented program brings our Hoppin' Tots pre-school gymnastics and academics together!
Leap 'N Learn students will have a structured gymnastics class each day, with a period of free play time to further explore movement opportunities.
Leap and Learn Offers:
Music
Art
Age-appropriate Academics
Certified Teacher
EnVision Gymnastics of South Jersey offers you the perfect combination to provide each preschooler with a solid foundation they can build and refine through their school years!
For questions or more information, call us at 609-261-1140.