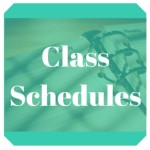 Envision offers a wide range of options to accommodate every family's schedule.  Our school-year and summer schedules are available online.
Class schedules may adjust due to demand so always check with our Front Desk prior to registration. If you have any questions about placement, consult with one of our representatives or request an evaluation.
The 2016-17 school-year schedule begins September 6, 2016 and runs through June 17, 2017.  Use the links below to access our current class schedules:
Girls Gymnastics (Flip-tastics) Classes – Ages 5-18
Boys Gymnastics (Flip-tastics) Classes – Ages 5-18
Pre-School (Hoppin' Tots) Classes  – Ages 10 mo – 5 yr *
Cheer Tumble Classes – Ages 6-18
Ninja Zone Classes – Ages 4 1/2 – 11
*Pre-school classes include parent participation options for children under 2 and independent classes for ages 2-5 years
Practice schedules for gymnastics and cheerleading competition teams – USAG, USAIGC and Vortex – are provided by team coaches.  For information, call Envision at 609-261-1140.