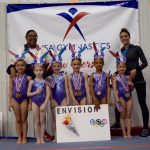 At the USA Gymnastics State Competition, the hard work of our young gymnasts really paid off. Big congratulations to our Level 2 (ages 6 and 7) gymnasts — 5th place NJ Level 2 Team Champions.
BIG WIN for Lexi Burns, NJ State Champion with her amazing, record breaking results: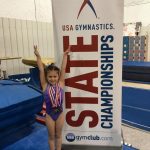 1st place Vault (9.65), Floor Exercise (9.70) and All Around (38.20) — setting a new NJ record in these events
2nd place Uneven Bars and Balance Beam
Congratulations also to Top 6 Finishers
Addison Lloyd – 3rd place Floor Exercise (9.60)
Zenya Zotolla – 3rd place Uneven Bars (9.45)
Your coaches, family, friends and team mates are proud of you!
For more information on Envision's competition teams, click here or call us at 609-261-1140.
Our Young USAG Gymnasts Shine