Play Group and Open Gym Style!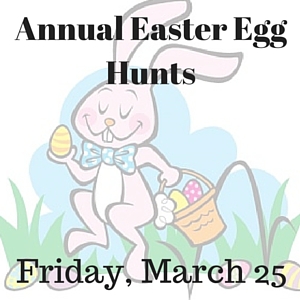 Our annual Easter Egg Hunts are Friday, March 25, 2016. We are offering a session for pre-school age children (ages 1-5) and a session for our school-age children (ages 6+).
All participants will leave with lots of treats and there will be a GRAND PRIZE EGG in both sessions! Plus, our pal, the Easter Bunny, will be available to say hello and take pictures!
Both events are open to registered students AND guests. So bring your Easter basket and your friends.
Play Group 10:00 AM – 11:15 AM
This is a parent participation event. We will hunt for eggs, win prizes, sing some songs and have some GYMNASTICS fun! Event is open to pre-school age children, ages 1-5. Cost is $15 per family.
Open Gym 11:30 AM – 1:00 PM
This is a student-participation only event. Parents may drop kids off and enjoy a 90 minute break or wait in the lobby. Event is open to school-age children, ages 6 and up only. Cost is $17 per participant. Children will enjoy hunting for eggs plus gymnastics fun. Please send a water bottle with your child.
For more information or to sign up, call our Front Desk at (609)-261-1140.
Envision Annual Easter Egg Hunts