USAIG Invitation Meets | Envision Gymnastics
The 2018 USAIGC Invitational Meets, hosted by Envision Gymnastics, are now available for team registration. In 2018, Envision Gymnastic will host the following USAIGC meets:
The Winter Pajama Party. Returning by popular demand, this invitational meet will be held on January 20-21, 2018 and is open to USAIGC Copper – Platinum levels. Small age groupings, gifts, prizes for 'best-decorated slippers' and AA acknowledgment for all athletes. Registration deadline is January 2, 2018.
Mardi Gras Madness '18. Join us on February 17 and 18, 2018 for a bead-tossing good time.  Open to USAIGC Copper-Premium Levels. Goody bags, team award, recognition for every athlete and a fun march in a parade. Registration deadline is January 29, 2018
Shamrock Shake Tumble and Roll.  This meet will be held on March 10 and 11, 2018 and is open to USAIGC Copper-Premium Levels. Show us your Irish spirit by wearing green. Good bags, recognition for all athletes, team awards and a Leprechaun scavenger hunt with prizes at each event. Registration deadline is February 23, 2018.
Chalk It Up 2018.  This end of season event helps athletes get ready for State meets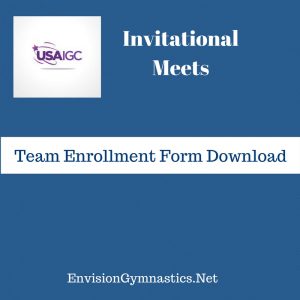 . Open to all USAIGC levels, it is held on April 14 and 15, 2018.  Good bags, team awards, and recognition for all! Registration deadline is March 26, 2018.
Additional information is available below.  To register, download the team USAIGC competition form, complete and email to Info@EnvisionGymnastics.net. For questions or additional information, please call us at 609-261-1140.